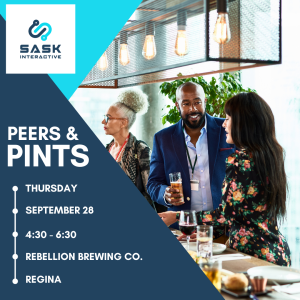 Are you ready to mix, mingle, and make meaningful connections in Regina's dynamic tech community? Saskatchewan Interactive is thrilled to invite you to returning networking event, Peers & Pints!
Date: September 28, 2023
Time: 4:30 PM – 6:30 PM
Venue: Rebellion Brewing Company, 1901 Dewdney Ave., Regina
Get ready to unwind and connect with your peers in a relaxed and friendly atmosphere. This event is designed for professionals like you to come together after a long day at work, enjoy some fantastic craft beers, and engage in stimulating conversations.
Here's what you can look forward to:
– A great selection of local craft beers at Rebellion Brewing Company.
– Networking opportunities with like-minded professionals in the tech industry.
– Casual and laid-back discussions about the latest industry trends and innovations.
Whether you're new to the tech scene or a seasoned pro, Peers & Pints is the perfect opportunity to expand your network, exchange ideas, and make lasting connections. Who knows, you might just meet your next collaborator, mentor, or friend!
Let's raise our glasses to a night of networking, learning, and fun! See you at Rebellion Brewing Company on September 28th!