Last week SaskInteractive hosted Game On! Video Game Design Camp and it was great! 
A special thanks to our instructor Jason Bowey for giving our students a fun and unique experience. SaskInteractive also would like to thank Noodlecake Studios and GasBuddy for both sponsoring our camp and sharing their knowledge and experiences with our students. Also, special thanks to Creative Kids, Creative Saskatchewan, and Filmpool for their role. One last mention, thank you to The Grid VR Arcade and Regina Youth Flag Football League for donating their time and equipment to film and game camp students to give them an opportunity to try out new activities over lunch hour. This camp would not be possible without everyone's participation and support.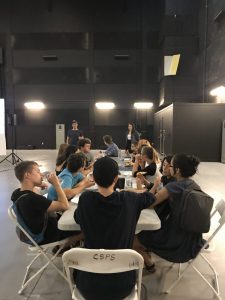 We ran the camp alongside the Filmpool's Film Camp and hosted it in the Sound Stage, a cool experience for students. We also brought students from both camps together to enjoy lunch time activities and a combined screening at the end of the camp.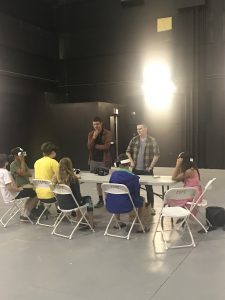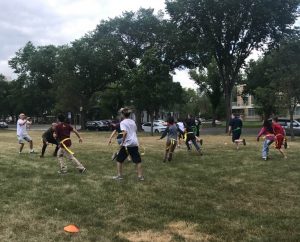 With the guidance of our extremely knowledgeable instructor, Jason Bowey, students learned how to create games using Construct. We had 3 games produced that included two platform games (Alien Chase and Walking on Sunshine) and one overhead style shooter game (Brain Dead). See below for the game descriptions and a video showcase.
A final thank you to all of our students; you guys did a fantastic job! Family, friends, and other students were absolutely amazed at what you were able to do in just 5 days. We hope you had fun and we hope to see you back here next year!
Watch the full video here!
Alien Chase (Platformer game)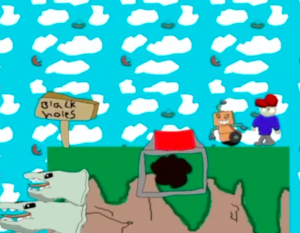 Created by Jack Rennebohm
An alien from another planet has come to Earth and stolen your picnic basket! You need to get it back but in order to do so, you must defeat the alien's super robot Yogi-Bot. But first you and your robot buddy Robo must get past all the traps the alien has set for you before reaching Yogi-Bot for the final battle for your picnic.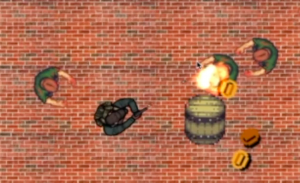 Brain Dead (Overhead style shooter game) 
Created by Autumn Lizee and Teagan Fleck
Your mission: Kill as many zombies as possible before they overwhelm you and you die. Kill zombies to collect coins to upgrade your gear and increase your zombie butt-kicking ability. Keep playing until the zombies get you and you become brain dead!

Walking on Sunshine (Platformer game)
Created by Kiara Bailey-Greenhough and Jason Bowey
You play as Jeff, the super cool blue ball. You've got to make your way through the clouds, collecting as many coins as you can. But beware of the "sunshine killers," little balls of darkness that are trying to get you! Luckily you've got a gun to deal with those pesky things. Don't get taken out by the sunshine killers and avoid falling to Earth or you'll be starting over.