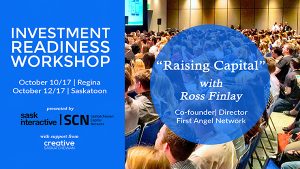 SaskInteractive and Saskatchewan Capital Network with the support of Creative Saskatchewan is proud to present Raising Capital-Investment Readiness Workshop  with guest facilitator Ross Finlay Co- Founder/ Director of First Angel Network. Join us for a day where you will receive a comprehensive and concise education seminar that will assist you in gaining  the understanding and skills required to successfully sell equity in your business. By understanding opportunities, issues and processes involved in raising capital you will have the ability to take your business to the next level and reach your full potential. The workshop will run in Regina on October 10th, 2017  from 11:00m-5:00pm.
As if the insightful workshop with Ross Finlay wasn't enough your workshop ticket includes automatic registration for the Industry Fire Side chat with Ross Finlay along with local investors and an networking event to follow.  The Industry Networking event will begin at 7:00pm with location details available soon.
Get your EARLY BIRD WORKSHOP TICKET for just $50.00!! Early Bird Pricing runs out on Monday October 2nd at midnight  so get your tickets now. After October 2nd all tickets will be sold for $75.00.
Registration is now open!! Register soon to take advantage of this unique opportunity before it fills up!
We hope to see you in Regina!!!  #raisingcapitalyqr
Register here. www.picatic.com/event15063723019699
Ross E. Finlay – Facilitator
Ross Finlay is a Co-Founder and Director of the First Angel Network Association – Atlantic Canada's association for private investors. He is a board member and past Co-Chair of the National Angel Capital Organization, and is a Director of the U.S. Angel Capital Association. Ross is Vice Chair of International Education and Trustee of the Angel Resource Institute (of the Kaufmann Foundation).
He is a recognized speaker, facilitator, business planner, and strategic change advisor who has an extensive background in public, private and not-for-profit sectors.
He has assisted in the development and review of countless business plans for start-up companies. Ross has extensive business networks throughout the world and has written as a regular columnist
for Atlantic Business Magazine and for Progress Magazine. He also is a contributor to the new book "Angels Without Borders – Trends and Policies Shaping Angel Investing Worldwide"
Ross has been Executive Director of a professional association and President of a national consulting company specializing in providing services to scientific, engineering and technical clients.
Since 1994, Ross has managed his own successful consulting practice. He returned to the corporate world for a time with PwC LLP and SolutionInc Ltd. – a software development company.
In 2002 Ross was a recipient of the Queen Elizabeth II Jubilee Medal for outstanding community service through his efforts in numerous charities.
Saskatchewan Capital Network
The Saskatchewan Capital Network is a member-based, non-profit organization of Saskatchewan angel investors. We have more than 35 investor members interested in seeing good investment opportunities in startup and growth-focused entrepreneurial companies, particularly those based in Saskatchewan.
Through presentation and networking events, Saskatchewan Capital Network facilitates the introduction of investment-ready entrepreneurial companies to potential investors. Events are held in Saskatoon and Regina based on deal flow – typically every two to three months.
Saskatchewan Capital Network investor members are interested in technology-based companies with a proprietary product or service, as well as companies in other industries with high growth potential.
Our objective is to encourage Saskatchewan entrepreneurs to build successful, sustainable businesses.
Saskatchewan Capital Network is Saskatchewan's only formal angel investor network.  Since our launch in 2011, our investor members have invested in eleven companies, raising over $1.8 million to assist in the growth of Saskatchewan startups.