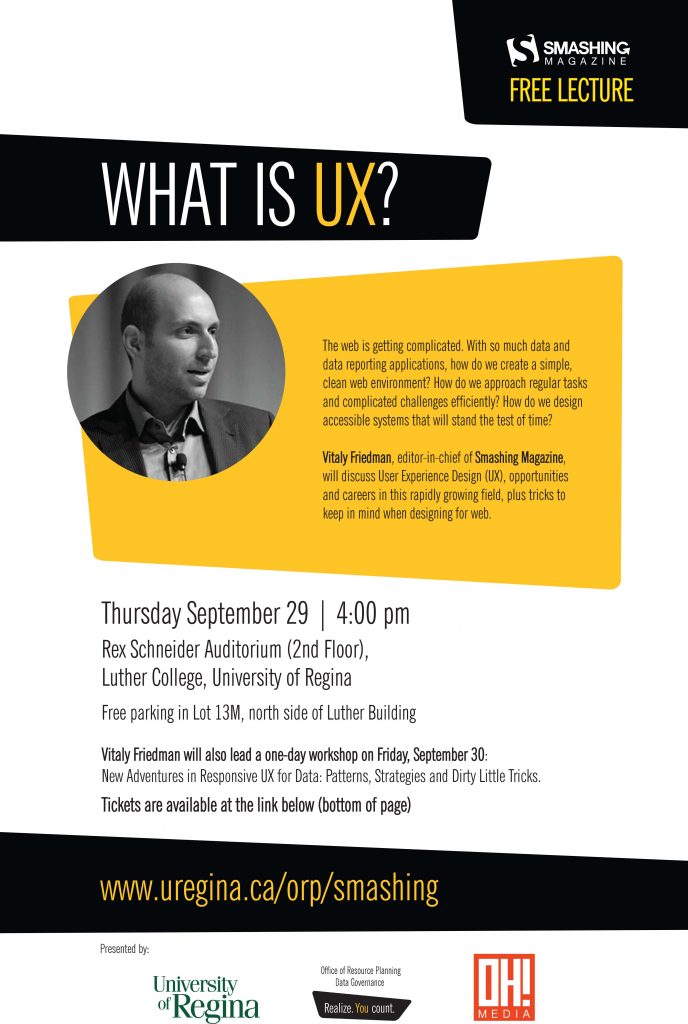 Free Public Lecture – 4pm Thurs. Sept. 29,
Rex Schneider Auditorium – 2nd floor, Luther College, University of Regina
(free parking in Lot 13M, north side of Luther College building)
What Is User Experience Design (UX) in 2016, and Where Will It Take Us?
Everything web is so complicated these days, isn't it? With responsive multi-screen multi-input applications, the web is now a highly unpredictable, complex environment. How can designers and developers even manage this complexity themselves, much less build a great experience that will attract users? How do we approach regular tasks and complicated challenges efficiently? How do we build scalable design systems that will stand the test of time? What do we need to know today in order to stay relevant in the future? What skills and expertise are absolutely necessary to be prepared for designing digital experiences of tomorrow?
In this talk on Thursday, September 29th (4pm), Vitaly Friedman<
http://www.smashingmagazine.com/author/vitaly-friedman
>, founding editor of Smashing Magazine<
http://www.smashingmagazine.com/
>, discusses User Experience Design (UX) and careers and opportunities in this rapidly growing field, along with a few things he has learned in his experience and some little dirty tricks to keep in mind when designing for the web. Beware: you might not be able to unlearn what you learn in this talk, and it might change your life forever. Seriously.
We also still have spaces available at our all-day workshop Friday Sept. 30 – focused on web-based reporting & dashboards:
New Adventures in Responsive UX for Data:
Patterns, Strategies and Dirty Little Tricks
As web applications are becoming swamped with data, and data reporting applications move to the web, both are faced with the same question: How do we deal with displaying and manipulating data, including both corporate and/or user-generated data, in responsive interfaces?
For more information about the Lecture and Workshop, see: