In six short years, Web Summit has grown from 400 attendees to over 50,000 attendees from more than 150 countries. No technology conference has ever grown so large so fast.  Web Summit has become "Europe's largest and most important technology marketplace". An unrivalled global meeting place for the world's most disruptive technology companies and those interested in how that disruption can transform their businesses and their lives. This year's conference will feature 650+ speakers and attendees have the opportunity to explore 24 separate conferences.
Why Attend?
Web Summit offers an amazing opportunity for tech companies in all stages doing many types of work. Saskatchewan's own Mouneeb Shahid of 2WebDesign attend last year and here's what he had to say about how it's impacted his business: 
"The opportunity of going to this conference, learning from the best in the industry, bringing that knowledge back to Saskatoon, and delivering that knowledge to our clients, was and amazing experience." Mouneeb Shahid, 2WebDesign
Watch the full interview with Mouneeb and get his tips and tricks for attending a large conference like Web Summit
Let ICT West be your conference liaison
Web Summit is one of the largest tech conferences in the world and so attendees might feel like they don't even know where to start. How do you get the most out of it, connect with potential investors/partners, navigate the conference? Luckily for Saskatchewan companies, there's the opportunity to go to Web Summit with ICT West.
For the past two years, ICT West has worked with western Canadian startups before, during and after Web Summit to support them as they work with Trade Commissioners, pitch to investors and explore the opportunities of international business. 
As an ICT West Delegate, you'll experience the following benefits:

 For information on ICT West's delegation to Web Summit and the benefits of being a part of our delegation, please visit http://www.ictwest.ca/shows/web-summit/ or contact Marie at 306-321-6343 or by email at msavostianik@ictam.ca.
Whether you're looking to go as a group or an individual, there's a ticket for you! Choose between Single Attendee, Group/Company (you choose the size), or the ALPHA Startup package.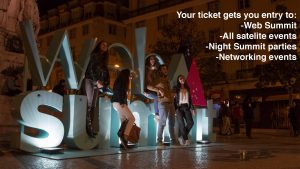 Follow Web Summit: