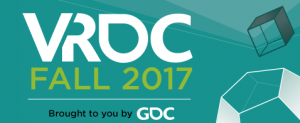 VRDC Fall 2017 brings together VR, AR, and mixed reality experts creating immersive experiences across industries, with potential use cases of all kinds. After selling out of tickets for the first three events, VRDC Fall 2017 will offer more sessions, moving to a bigger location at the Hilton Union Square in San Francisco, CA September 21-22.
Brought to you by the organizers of the Game Developers Conference (GDC), VRDC Fall 2017 taps expertise from game, entertainment, and tech fields to bring you the state of the art in producing content for virtual, augmented, and mixed reality.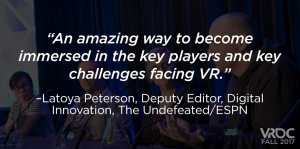 Join designers, programmers, business professionals, producers, artists, and audio creators best practices, gain an understanding of the market & monetization trends, create new business partnerships, and exchange ideas with innovators shaping the industry.
Learn to build immersive experiences of all kinds, including:
Retail & Commercial

Industrial Design
The Saskatchewan Success Story: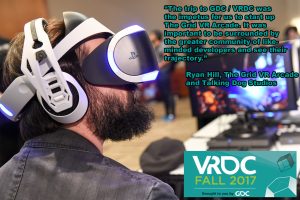 Last year, local company Talking Dog Studios attended VRDC and that experience played a huge role in opening Regina's first VR arcade, The Grid. It also had an impact on Talking Dog Studios as they have expanded to take on more VR based projects.
Ryan Hill attended last year on behalf of Talking Dog Studios and shares his thoughts on the experience.
After going to GDC / VRDC I felt like I was actually part of the VR industry. We had been working in VR for about a year before, but being at this conference gave me confidence in the quality of our work and my skills. I became aware that my expertise wasn't that far off what people in bigger centres have. It was important to be surrounded by the greater community of like minded developers to see their trajectory. Being in Saskatchewan sometimes feels isolating and getting to meet and talk with other developers from across Canada and the world made me feel apart of something bigger. Many contacts came out of my attendance and a plethora of ideas that [impact] my life and day-to-day work.
The trip to GDC / VRDC was the impetus for us to start up The Grid VR Arcade. Shortly after coming back form the conference we purchased a HTC Vive and delved deep into "room scale" VR. Going to the conference gave us an idea of how fun and fast the VR industry is and we leaped into it while it's still fresh. Our Talking Dog Studios VR projects have also grown with our expanded skills and knowledge we gained through the experience. The help of SaskInteractive and Creative Saskatchewan to get us to this conference really catapulted our company and employees forward more than tutorials on the web would ever had.
Check out their most recent VR project, made for Sasktel: http://talkingdogstudios.com/features/the-saskatchewan-connection/
Passes and Pricing:
Attend two days of sessions focused on VR/AR and mixed reality for games, entertainment, retail, and beyond. VRDC Fall 2017 attendees will learn about the latest innovations, share best practices for development, and gain insight into monetization models and market opportunities.
Your VRDC Fall 2017 Pass includes:
Full access to VRDC Fall 2017 conference sessions, networking events, sponsored sessions, and expo floor September 21-22.

Breakfast, lunch and coffee breaks on Thursday and Friday.

VRDC session videos – access to 12,000+ VRDC and GDC session videos in the GDC Vault through March 1, 2018.

Networking with leading VR/AR and mixed reality content creators, press, and business development professionals.
Follow VRDC: