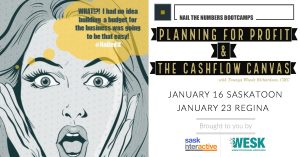 NAIL THE NUMBERS BOOTCAMP SASKATOON
SaskInteractive in partnership with WESK is proud to presents Nail the Numbers Bootcamp with Taunya Woods Richardson, CMC.  The Nail the Numbers Bootcamp is a one day seminar: that includes The Cash Flow Canvas: Budgeting Made Fun & Planning for Profit.  This workshop is a  great opportunity for Startups and for Business Owners who are keen on grasping the financial outcomes of a percentage point and is eager to shift their business mindset from the bottom-up for increased profit margins.
Tickets are available on eventbrite:
Saskinteractive Members enjoy
EARLY BIRD TICKET PRICING: available Dec 3rd UNTIL Dec 21st
MEMBER PRICING: available December 22nd-workshop date
The workshop will start at 9:30 am-4:00pm. Lunch is included in registration. Breaks will also be scheduled in.
For an optimum learning experience, participants are encouraged to bring their most recent financial statements, a calculator, their laptop, and a willingness to apply their new skills, both individually and in group settings.  For those who do not have personal business statements samples will be provided.
THE CASHFLOW CANVAS
Trying to figure out where to start when creating a cashflow forecast for a new idea can be an overwhelming experience for a startup. Modeled after the immensely popular Business Model Canvas by Strategyzer, Taunya Woods Richardson has designed a fun and creative way for startups to work on revenue projections, price-points and expenses, all before they even touch an Excel spreadsheet.
Learning Objectives | Disrupting traditional forecasting methods, the Cashflow Canvas provides a unique and creative methodology to building a business budget. During their time together, Taunya guides startups through a big-picture strategy session where they consider all the possibilities pertaining to both money making and spending it when it comes to their business including:
Revenue Streams
Cost of Goods Sold
Price-Points
Seasonality and Revenue Collection
Team Expenses (Yes, including Owner's Salary!)
Space and Operating Expenses
Sales and Marketing Expenses
Loan Repayment
Miscellaneous Expenses including Loan Repayment
PLANNING FOR PROFIT
Overview | Many business owners willingly accept modest net profits – the majority operating with a bottom line of less than two percent. Planning for Profit shows you how to become a best-in-sector performer, working towards a 10 to 20 percent net profit margin. Through a shockingly simple process, this Bootcamp will have you asking yourself, why wasn't I doing this earlier?
Learning Objectives | Using a "bottom-up" process, Taunya creates a shift in your business strategy, and provides you with the insight and skills to motivate you towards achieving your new financial goals.
During this Bootcamp, you will learn how to:
Establish and calculate your net profit margin goal.
Use a bottom-up approach to achieve the desired net profit margin.
Develop a pricing formula to ensure the required gross profit margin.
Partner information
WESK-Women Entrepreneurs of Saskatchewan
From start up to scale up, your success is our only goal.
Since 1995, WESK has helped thousands of women start, purchase and expand their businesses. Now, we're taking an even bolder approach focused on innovation and excellence. We're stepping up our training, engaging with great partners, and bringing you even more resources to generate success.
As a non-profit, membership-based organization, we keep our services affordable — and many are FREE! The return, however, is priceless. Join us!
Our Vision
All Saskatchewan entrepreneurs have equal opportunity to achieve success and recognition.
Our Mission
We empower entrepreneurial women in Saskatchewan to succeed at all stages of business through access to financing, knowledge, networks, and advocacy.
For More info: https://wesk.ca