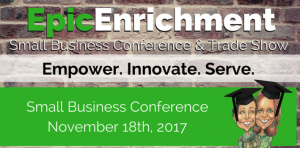 Ready for real-time, actionable education from business leaders who can help take your business to the next level?
Looking to expand your branch reach in Saskatoon and connect with potential business partners?
With outstanding expert speakers and multiple networking opportunities throughout the day EpicEnrichment Small Business Conference is designed to give you all of the above so that you can attract more clients or customers and serve them well!
The Conference will be held on Saturday, November 18th at the German Cultural Centre in Saskatoon. Doors will open at 8 am and the Conference will end at 6 pm
Registration includes free admission for 1 to the EpicEnrichment Small Business Trade Show.
During the Conference, you'll also get to meet our EpicEnrichment Pitch Competition Finalists. The Pitch Competition will be open to any legal small business or entrepreneur in Saskatoon. For more information on the Pitch Competition, how to nominate a business or how to apply, click here to visit our website.