A big congrats to Filmpool, all the winners, and all the participants in last night's 3rd Annual Saskatchewan Independent Film Awards (SIFA)!
SaskInteractive was proud to attend and support the Filmpool and the independent film community. There were a number of short and student films shown that displayed an amazing amount of talent and creativity. We were also shown the trailers for the six feature length films that were submitted. Having six feature films made in Saskatchewan this past year is a huge win for the independent film making community, demonstrating that Saskatchewan has a vibrant film industry.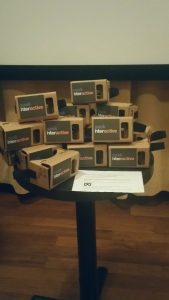 SaskInteractive was also able to showcase some of the interactive community at the SIFAs by donating Google Cardboards to the Filmpool to give to their members.
It was a great night filled with amazing films, great food and drinks, and big wins for the film community. We can't wait to see what next year brings!
For more information about Filmpool and the SIFAs, visit http://www.filmpool.ca